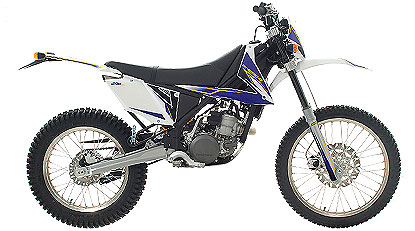 SHERCO rūpnīca uzražojusi pilnīgi jauna veida motociklu. Varētu teikt, ka tas ir enduro motocikls ar triāla riepām un motoru.

Informācija par motociklu angļu valodā:

The Sherco X-Ride prototype bike was revealed at Milan in 2011. Since then the Sherco team has been working diligently to bring it from project to production. This new model will be produced at the factory in Caldes de Montbui (Barcelona). The X-Ride broadens the model range of Sherco motorcycles available in the marketplace. This is a new concept motorcycle that takes its place alongside the other models available from the company, Trials, Enduro and Mopeds.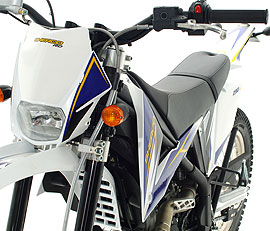 The X-Ride is not a trail, enduro or trials bike, it is a unique bike with a world of possibilities, it can be used in any terrain. It has inherited the trials bikes 290cc engine which has the power to overcome any obstacle. The chassis will take you any place that you want to go with exceptional ease, even in extreme conditions. The smooth, quiet, powerful engine along with the exemplary chassis will allow you to ride on any terrain, on a bike that is extremely comfortable and maneuverable.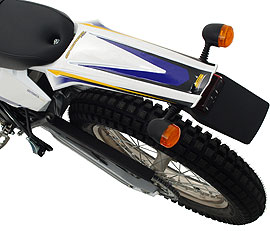 The X-Ride is not a race bike, but it draws from all of the vast experience that Sherco has gained in Trial, Enduro and Supermoto. Away from the race track and racing aspects, the X-Ride is able to satisfy any desire for adventure, whether it is riding on narrow single track, complicated trials type riding or on fast tracks(*). It is even versatile enough for use on city streets. With a fuel tank capacity of 7 liters (1.85 gallons) and excellent fuel economy the X-Ride can take it's rider for a long distance without having to refuel. With a ground clearance of 325mm (12.8 inches )the X-Ride allows you to overcome obstacles of considerable size with ease. With a total weight of only 92.5 kg. (203.93 pounds) the X-Ride has performance without equal. The production of the new bike is a reality and the first units have already left the factory. The new bike is being produced at the Sherco factory in Caldes de Montbui where the trials models are also produced, where they will be distributed to all five continents.